Recently two PPG Wave 2.3 voice boards came in crying for help.
As I did not have a 2.3 in the workshop at that moment, I decided to build a test jig that allows to thoroughly check a voice board on the bench – actually much better than in the Wave, because it allows for well defined static levels that can be easily measured.
Here's a photo for you: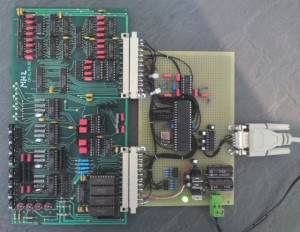 On the left, you see a PPG voice board under test, my jig is plugged right onto it.
What it can do to help trouble shooting by now:
– generate a 20Hz triangle or 1kHz square wave through an arbitrary combination of voices A to D
– apply a control voltage between 0 and 3.5 volts to each VCA, VCF and resonance channel, independent from each other
– choose from any of the four possible time constants (0, 3, 11 and 14ms) for the VCA and VCF control voltages
– modulate the VCA and VCF control voltage for each voice with a 25Hz square wave to ease validation of those time constants
All functions are selected by short commands sent to the board via RS232, eventually by a nice little Tcl/Tk frontend… somewhen…
For now, it already helped me to identify 3 dead CD4066's and one 74LS379 with a stuck low output – and also revealed a layout mistake on the voice board which prevents the 3 and 14ms time constant for voice D's VCF from being selected, it will be either 0 or 14ms. Whether the 3 or 14ms setting is ever used is now a task for all 2.3 owners to find out 🙂 Theoretically, it could be audible if the VCF kicks in without a selected 3ms delay.